Volunteer with Coast
Share your unique skills by volunteering with us!
Volunteer Mission
To engage the community to support Coast services by creating meaningful opportunities for volunteer involvement
Every year, close to 300 volunteers contribute over 5000 hours to supporting Coast's work. From one-on-one positions to our amazing event volunteers, to our hardworking board members, our volunteers are integral to helping clients recover from mental illness.
As a Coast volunteer, you'll share your time, skills, interests and energy to support clients on their path to realizing their potential, while overcoming individual challenges. Together with other members of the Coast team, you will help clients define and meet their own social, psychological, physical, recreational and spiritual goals.
A Coast volunteer role is a great fit for:
Those who are considering or are already going to school for and/or working in the health care sector, social work, mental health rehabilitation and want to develop skills and experience working with individuals recovering from mental illness.
Those who enjoy accompanying individuals or groups on outings, day-to-day tasks such as doctor's appointments or grocery shopping, festivals and concerts, etc
Those who love feel-good, personally rewarding volunteer experiences!
General Requirements:
Must be 19 years of age
Able to make a commitment for a period of six months
Have a clear Criminal Records Check for Vulnerable Persons
Have a annual flu shot
Ability to respect confidentiality and maintain personal boundaries
We offer a variety of roles in different areas of our organization. We are currently accepting volunteers from the waitlist. To get added to the waitlist or for more information, contact our Volunteer Manager, Valri Pawlik.
Meet Coast's volunteers!
Ayden Kinchla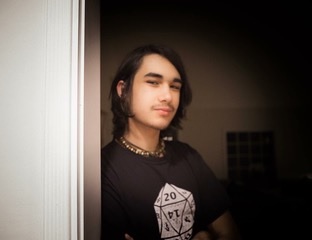 Both my grandparents were psychologists. My grandpa was a psychology professor at Princeton so most of my visits almost always featured a walk through the centuries old campus and under the leering gargoyle facades. He would sit me down and talk to me about history and psychology and I still remember him blowing my mind with a talk on geometry and a demonstration of a Möbius strip. He thought people were fascinating, and I like to think he passed that interest on to me. My grandma was ecstatic when she heard I wanted to major in psychology at UBC. I had a very close friend who suffered from depression and PTSD while growing up in Los Angeles and I wanted to take my interest and apply it to something that could make a difference for people.
So when Dr. Barnes, my biopsychology professor, gave us the option to volunteer with people suffering mental illnesses, I leapt at it. He put me in touch with Val Mayne who talked to me about what I could do to help. I was obviously no therapist yet, to imagine anything of the sort was ridiculous, but I could spend time with people who didn't always have other people to go to. I ran a Dungeons and Dragons club in high school, and I thought I could do something of the sort with Coast at Crossroads. I was of course hesitant because D&D requires a little more input from the players than the typical board game, but for the first couple months it actually worked. Eventually though, people lost interest and I had to learn how to be flexible and adjust the activities to suit people's other wants and desires.
I really value the rapport I've built with several of the clients. There have been some ups and downs, and the days when nobody wants to do anything leave me a little discouraged. But when I show up to see people smiling and exciting to see me it makes the whole effort worth it. I've got more than a few of the residents to try something new and am doing my best to teach one of them how to play the guitar. Spending so much time around people with schizophrenia has inspired me to look more closely into the disease and focus several of my papers this year on information regarding the illness. 
My most memorable accomplishment happened last year when we were still regularly(ish) playing Dungeons and Dragons. After pitching it for a couple weeks, I finally got two of the residents interested enough to make characters. It was nearly impossible getting both of them interested at the same time, and whenever one of them wanted to play the other was either not home or uninterested. Yet finally, after running a couple of solo games with one or the other, they were both together and excited to participate. They joined forces and concluded an adventure to bring down a yeti necromancer who was terrorizing a small mountain town with specters and wolves. The stakes were high, the excitement was palpable, and after nearly facing their doom in a blizzard they struck the yeti with a bottle of alchemist's fire (a natural 20 I might add) and saved the town's cleric from a presumably grisly fate. They thought it was awesome, and as a Dungeon Master and a volunteer, that's all I ever want to hear.
April Tian

A 4th-year Pharmacology student at UBC­, where she also works part-time in the Pediatrics Audiology Lab helping with infant research, April joined Coast's volunteer team summer of 2017 and is already forging enjoyable relationships.

April says, "It hasn't been a very long time but I've already met many new people. I like the fact that I get to work in a unique environment at the houses. Establishing friendly relationships with the people at the houses and making everyone happy is one of the most rewarding aspects of this position".

In her spare time, April enjoys the gym where she finds it "very calming". When it's cold out, she enjoys hot chocolate and cuddling her cats on rainy days! Apart from the rain, April enjoys the diversity of Vancouver and especially the huge selection of food on offer, adding that "food from so many different cultures is something I had never experienced back home".

Independent and open to new experiences, April hopes to eventually have a career in the health sciences profession so that she can give back to the community. In the meantime, she's enjoys volunteering with Coast as it's one of the most relaxed and rewarding positions she's ever had.  
Pat is passionate about food and has been cooking seriously since high school. His passion has seen him work in a variety of restaurants and taken him on extensive journeys to the Far East to expand his culinary knowledge.

Pat says, "I've had cooking jobs for many years. I love cooking. It's a big part of my family. My cousin works for Coast and had good things to say about the organization and I'd been looking for somewhere to cook. Food really gets Pat's creative juices flowing and his volunteer work with Coast allows him the scope to show off his skills away from the intense pressure of some restaurant kitchens.

By day, Pat is the Director of Technology and Innovation at Integrated Sustainability –a company that specializes in finding modern solutions to water and waste management. Although Pat misses the winter sunshine of Calgary, he loves living in a city that offers so many outdoor activities and he's an active hiker, climber and mountain biker.

"I really enjoy volunteering at Coast, because it takes all the pressure from the kitchen that I'm used to out of the equation. In a fancy French restaurant if you cut a carrot a little bit wrong you get yelled at, but at Coast any extra little skill I can do and everyone is like, 'Wow! How did you do that?' That's very rewarding."

Pat Leslie
Esther Oh

Esther is a lawyer at Norton Rose Fulbright Canada LLP and has always been an active volunteer in the community during her years as a student. She has a passion for psychology and mental health and saw the volunteer role at Coast as an ideal opportunity to put her passion into work.

As a one-one-one support worker, Esther visits her client once a week to accompany them on a variety of social activities, such as visiting the Art Gallery and taking a walk on the beach. Since joining in March, she has developed a connection with her client and looks forward to spending time together every week.

Esther has found this experience to be rewarding and appreciates how she is able to learn so much from her client through their weekly interactions. She is inspired by the wisdom and positivity demonstrated by an individual who has been through lots of hardships. 

Outside of work and volunteering, Esther enjoys reading and weightlifting. When she takes a break from reading, she can be found indulging in some delicious Thai or Mexican food at a local restaurant.

When the weather becomes nicer, Esther hopes to go hiking with her client. Her favorite hiking spot is the the Capilano River Regional Park. She finds nature restorative and looks forward to sharing the experience with her client.